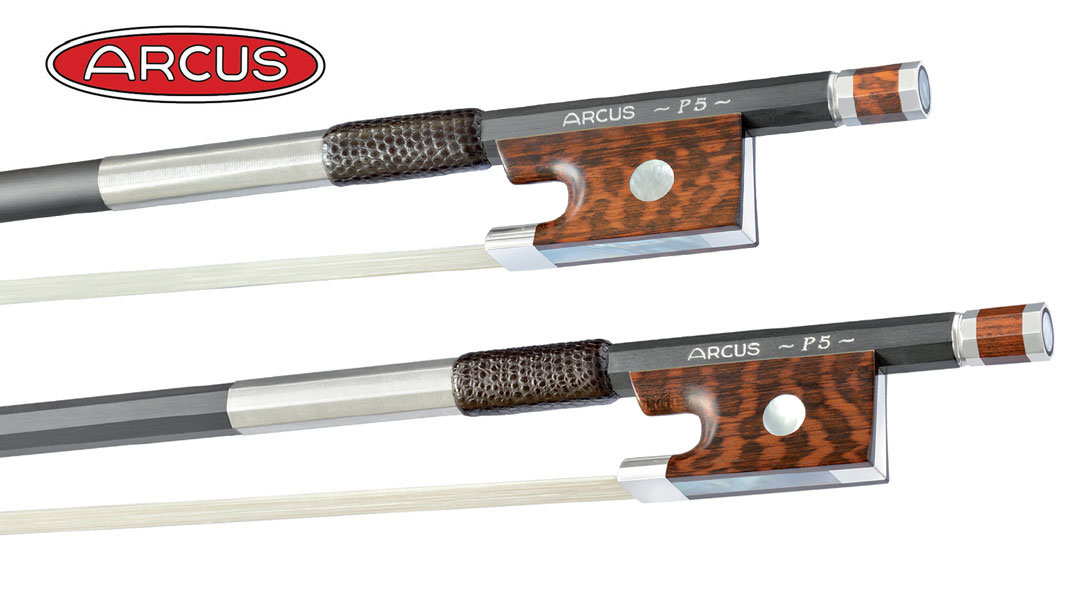 New for 2016: Handmade, highest quality, lightweight carbon fibre.
'A major difference from the Arcus bows to wooden bows lies in the much higher resiliency or stiffness. In combination with the somewhat lower weight this results in improved vibration characteristics of the stick and consequently in the instrument.'
High End Carbon Fibre: Made in Europe to exacting standards.
Long Life Bearings: Aluminium/silicon alloy for lifelong performance.
Snakewood Frogs: For aesthetics but also stronger & more conductive than ebony.
Titanium Underslides (Silver/Gold Mounted): For durability.
Arcus Bows
In Würzburg, Germany, the world's finest bows are made by a team of highly skilled craftsmen and enthusiastic engineers. They have developed a range of bows that stands tall in the long line of evolution of the stringed instruments. They combine the qualities of strong Romantic and agile Baroque bows in a truly unique way, using advanced materials and technologies to provide musicians with the perfect tool to make the most beautiful music.
Due to the capricious character of carbon fibre, all Arcus bows are different, varying in their sound and feel. They are classified for their resonance quality and fitted accordingly in stainless steel, silver and gold. The 5- and 6-class bows are a match to the finest Pernambuco bows, while the 7- 8- and 9-class bows offer a sound so beautiful you must have experienced to believe it.
The various lines and shapes (octagonal and round) are developed to match all instruments and playing styles, which makes it easy to find the ideal bow for every player.